our quiche menu
Which flavor will you choose?
Please Place Order By Phone
Ordering on our website is temporarily unavailable.
Please choose flavors from this menu and give us a call at 269-459-8030 to order.
Broccoli and Cheddar
Fresh steamed broccoli florets and cheddar cheese, simple and delicious!
Butternut Squash with Sausage & Tomato Preserves
Roasted chunks of butternut squash with savory breakfast sausage and a hint of spicy sweet tomato preserves.
Caramelized Onion and Potato with Smoked Gouda
Melty, cheesy goodness perfectly set against golden potatoes, and caramelized Vidalia onions.
Farmer's Quiche
Inspired by a farmer's omelet, this quiche is loaded with savory sausage, hash brown potatoes, sautéed peppers and onions and a blend of pepper jack and cheddar cheese. The perfect breakfast quiche!
Goat Cheese with Spinach & Roasted Red Pepper
Bursts of Chevre goat cheese, fresh spinach leaves, and strips of roasted sweet bell pepper.
Ham & Cheese
Whole hams are roasted in our kitchen, shredded, and mixed with a blend of Gouda and baby Swiss cheeses for this classic quiche.
Jalapeno with Bacon & Cream Cheese
The spicy heat of jalapeno peppers, with smoky bacon, cheddar and little pockets of cream cheese.
Mushroom with Swiss Chard & Gruyere
Portabella and Button Mushrooms, stewed with herbs and wine, mixed with Swiss chard, and rich gruyere cheese.
Sausage, Cheddar & Chive
Mild and savory breakfast sausage with melting chunks of cheddar cheese and a sprinkle of chopped chives.
Spinach Artichoke
Classic blend of fresh spinach and artichoke heart with melting mozzarella and parmesan cheese and a hint of garlic.
Our Perfect Crust Paired with Our Delectable Fillings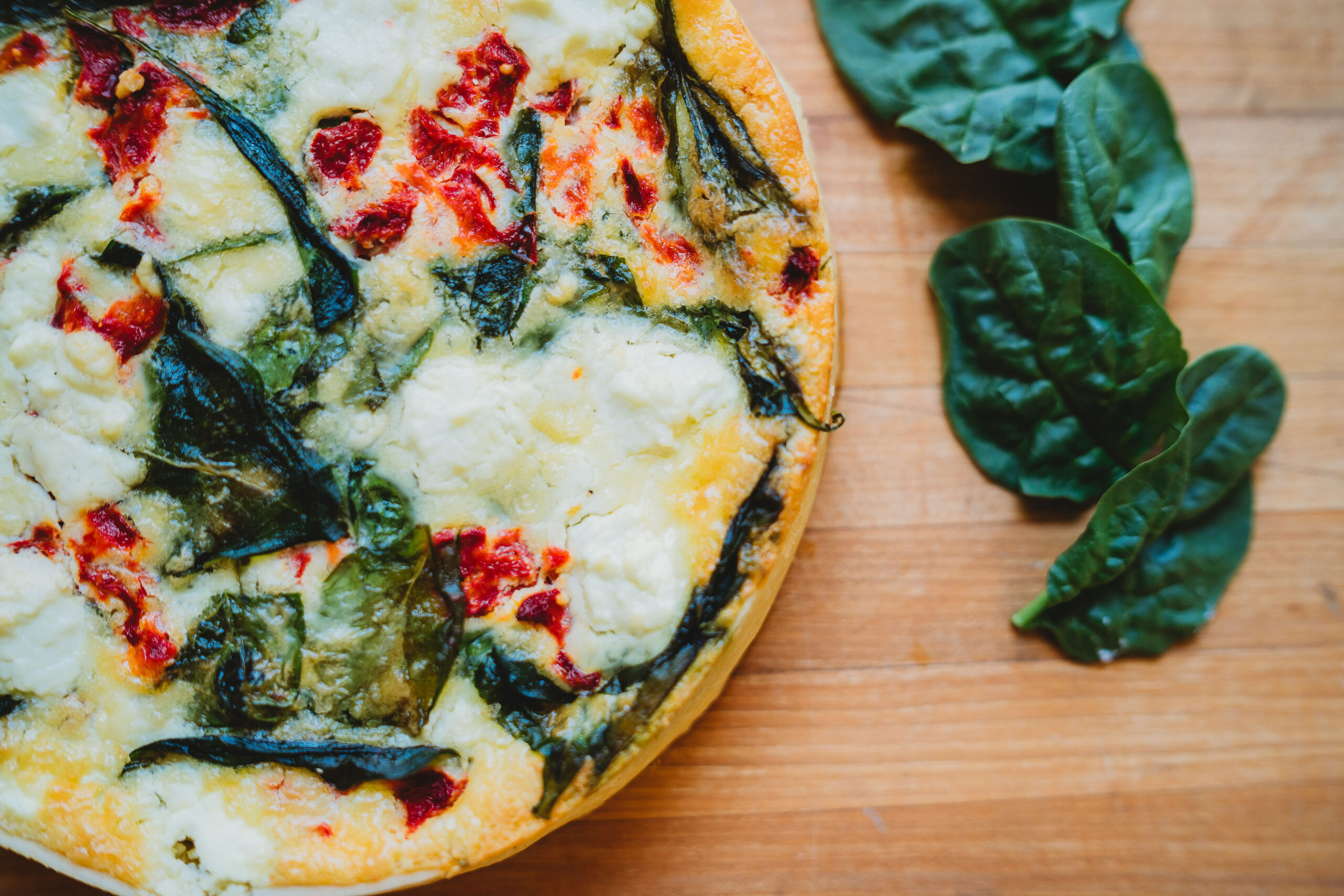 A Size for Every Occasion
Deliciousness in every slice