our quiche menu
Which flavor will you choose?
Broccoli and Cheddar
Fresh steamed broccoli florets and cheddar cheese, simple and delicious!
Caramelized Onion and Potato with Smoked Gouda
Melty, cheesy goodness perfectly set against golden potatoes, and caramelized Vidalia onions.
Cheesy Bacon Potato
Fresh Potatoes with a perfect blend of cheddar and dubliner cheese and generous amounts of Canadian Bacon.
Chicken, Bacon, Leek & Parmesan Quiche
Delicious savory blend of roasted chicken breasts, smoky bacon, fresh leeks and parmesan cheese.
Farmer's Quiche
Inspired by a farmer's omelet, this quiche is loaded with savory sausage, hash brown potatoes, sautéed peppers and onions and a blend of pepper jack and cheddar cheese. The perfect breakfast quiche!
Goat Cheese with Spinach & Roasted Red Pepper
Bursts of Chevre goat cheese, fresh spinach leaves, and strips of roasted sweet bell pepper.
Ham & Cheese
Whole hams are roasted in our kitchen, shredded, and mixed with a blend of Gouda and baby Swiss cheeses for this classic quiche.
Jalapeno with Bacon & Cream Cheese
The spicy heat of jalapeno peppers, with smoky bacon, cheddar and little pockets of cream cheese.
Mushroom with Swiss Chard & Gruyere
Portabella and Button Mushrooms, stewed with herbs and wine, mixed with Swiss chard, and rich gruyere cheese.
Sausage, Cheddar & Chive
Mild and savory breakfast sausage with melting chunks of cheddar cheese and a sprinkle of chopped chives.
Summer Veggie
A delightful mix of zucchini, summer squash, tomato, onion and Portabella mushroom seasoned and roasted to perfection with parmesan cheese added. A summertime favorite!
Tomato with Fresh Mozzarella & Basil
Delightful summery taste of sun-dried tomatoes combined with Mozzarella and Parmesan cheeses and flavor boosted with basil and a hint of garlic.
Our Perfect Crust Paired with Our Delectable Fillings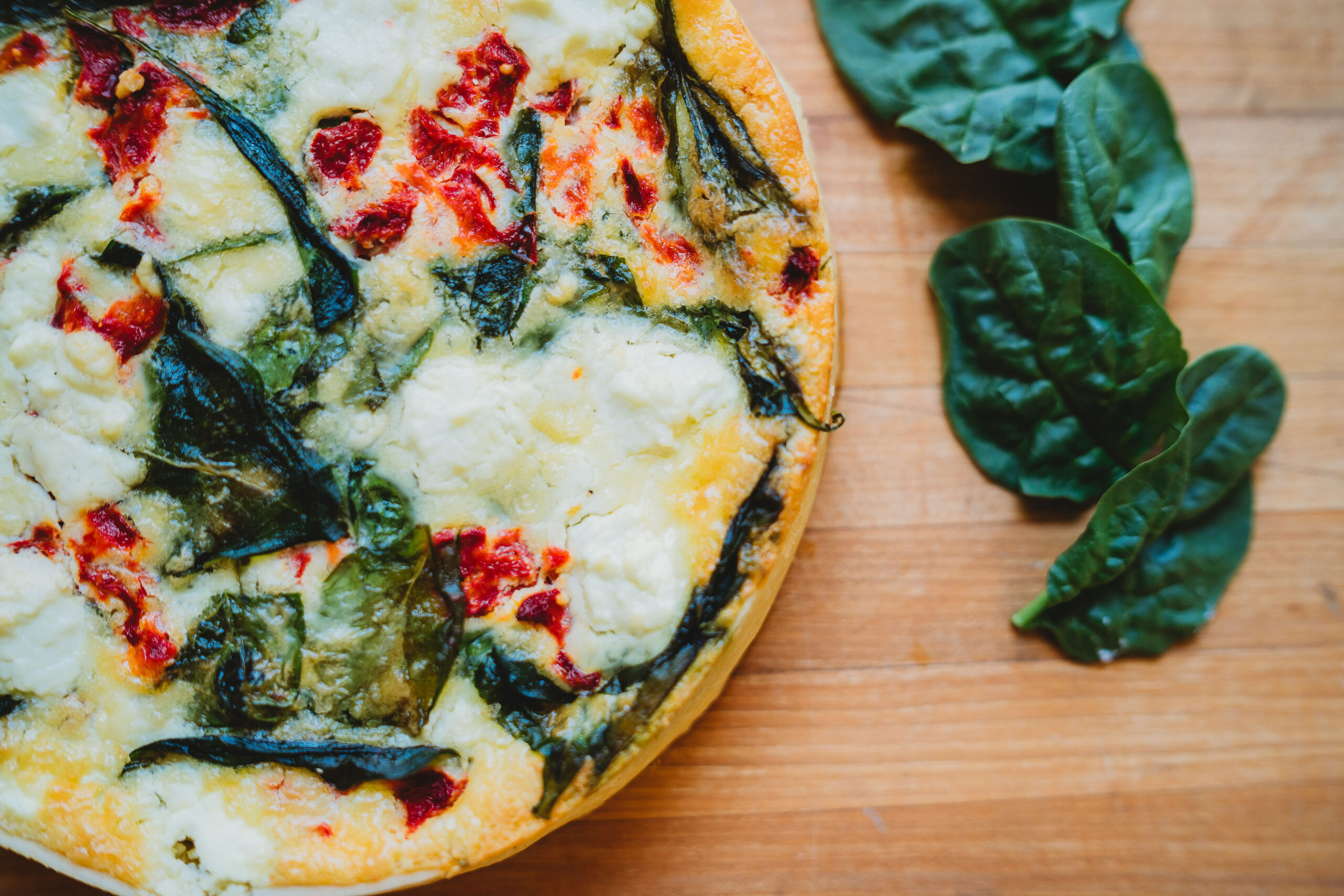 A Size for Every Occasion
Deliciousness in every slice